Bienvenidos, Bienvenue, Bem-vindo and Welcome to the official homepage of the Society for Latin American and Caribbean Anthropology (SLACA). The first chapter of SLACA was founded by the American Anthropological Association (AAA) in 1969 to advance the study of Latin American anthropology. In 2005, the Society's membership officially approved the adoption of "Caribbean" to the Society's name to reflect the connections between the Latin American and Caribbean regions.
SLACA provides a forum for discussion of current research, scholarly trends, and human rights concerns, as well as a space for interchange among scholars from and who work in Latin America and the Caribbean.
Connect with SLACA
SLACA solicits Book Prize submissions
The Society for Latin American and Caribbean Anthropology (SLACA), a section of the
American Anthropological Association, announces the opening of its annual book prize
competition. The prize aims to recognize distinguished anthropological work that
advances the understanding of the Americas in innovative and potentially transformative
ways. The award will be presented at the annual meeting of the American Anthropological
Association in Vancouver, November 20-24, 2019. A cash prize of $1,000 accompanies
the award. For full information, see the annual book prize page.
SLACA Spring Conference Program
The program for SLACA's 6th annual spring conference is now available on the Spring 2019 Conference Page. "Reconstrucciones: Renovaciones materiales, políticas y teóricas" takes place April 11-13 in Santo Domingo, Dominican Republic.
SLACA Announces 2018 Awards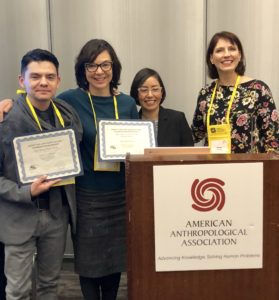 Book Prize winners with Mónica Salas Landa and Ronda Brulotte
The Society for Latin American and Caribbean Anthropology (SLACA) is proud to award its annual book prize to Alex E. Chávez (Assistant Professor of Anthropology, University of Notre Dame) for his book Sounds of Crossing: Music, Migration, and the Aural Poetics of Huapango Arribeño (Duke University Press), and honorable mention to Mariana Mora (CIESAS, Mexico) for her book Kuxlejal Politics: Indigenous Autonomy, Race, and Decolonizing Research in Zapatista Communities (University of Texas Press).
SLACA also awards Jennifer Cearns (University College London), the Roseberry Nash Graduate Student Award for her paper "The Mula Ring: Networks of Material Circulation and Exchange through the Cuban World," and Werner Hertzog (Vanderbilt University) an honorable mention for his paper "The Economics of Nativist Cycle: Credit, Liquidity, and the Highland Chiapas 'Cargo Bubble,' 1940-1970."
See more on the Prizes and Awards page
JLACA Jubilee Volume 2020
Motivated and inspired by the 25th anniversary of the Journal for Latin American and Caribbean Anthropology, JLACA announces a call for papers for the 2020 Volume 25. We seek articles that address an array of themes, issues, and problems from an historical perspective of "the last twenty-five years." Some authors may use this historical frame to discuss prospective possibilities of and for LAC anthropology, as well as for the Society. Authors may choose to assess the representation, or lack of treatment, of a topic in the pages of JLACA.
For more information and suggested themes see the Current Call for Papers page.